President's Message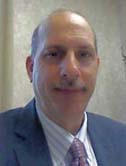 Jim Greenfield
President & CEO
Hello, and thank you for visiting our website.
Conneaut Savings Bank is a strong community Bank with its headquarters in Conneaut, Ohio. Founded in 1888, we currently have three locations to serve our diverse customer base. We're small, but large enough to serve the needs of all of our personal relationship customers and most of their business needs in our market area. With our website, you'll be able to learn much more about Conneaut Savings Bank and our services. Contact information for key employees is provided as well for your convenience. And of course, we'd like to meet with you personally at any of our offices. Personal relationships are fundamental to our Bank.
With technology expanding and changing at an ever-quickening pace, Conneaut Savings Bank is committed to updating our approaches to customer service with the online banking services we find our customers frequently request. We are rarely first to market with new technology; we check it out carefully and determine first that our customer demand is sufficient to warrant the investment needed. We offer extensive personal and business banking services personally and online for our customers.
Please explore this website. I'm confident you'll find an abundance of financial information you can use today or in the future.
Sincerely,
Jim Greenfield
President/CEO
888-453-2311
jgreenfield@conneautsavings.com
---
Bank Contacts
Jim Greenfield, President & CEO
jgreenfield@conneautsavingsbank.com
Christie Joslin, VP, Chief Financial Officer
cjoslin@conneautsavings.com
Lori Woodworth, VP, Chief Retail Lending Officer
lwoodworth@conneautsavings.com
Cyndy Merlene, AVP Branch Administration
cmerlene@conneautsavings.com
Suzy Kay, VP Deposit Administration
skay@conneautsavings.com
Rachel Burch, Loan Officer
rburch@conneautsavings.com
Barry Sharp, AVP Business Development Officer
bsharp@conneautsavings.com
---
Board of Directors
William Cooper, Chairperson
Kerry Gerdes, Vice Chairperson
David Punkar, Director
Lori McLaughlin, Director
Phillip Heffelfinger, Director
Jim Greenfield, Director
Timothy Green, Director