Home Equity Lines of Credit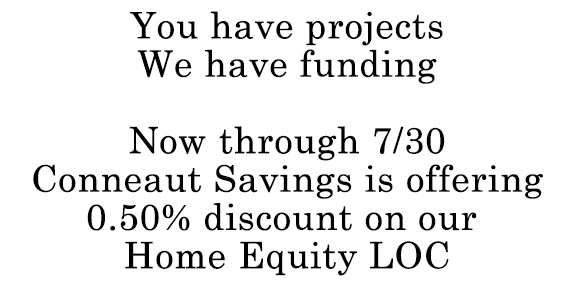 Home Equity Line of Credit:  Variable Annual Percentage Rate ("APR") is based on The Wall Street Journal Prime Rate ("Prime") published on the last business day of the month.  Maximum APR 18%.  Minimum APR 2.50%
Your rate may be eligible for a 0.50% variable rate discount.  In order to be eligible for the 0.50% variable rate discount the following criteria needs to be met.  Having a Conneaut Savings Bank consumer checking account, set up with automatic monthly payment deduction, is required at the time of loan origination to be eligible for the 0.25% rate discount.  To be eligible for the limited time, open your new HELOC (Home Equity Line of Credit) and receive a 0.25% rate discount with $10,000 new money.
Obtaining the best rate above also requires the following criteria to be met 1) A new home equity line of credit application, 2) A loan-to-value (LTV) of 80% or less, 3) Owner occupied primary residence 4) Strong creditworthiness.
Eligible properties include owner-occupied 1-to-4- family properties, condominiums, and 2nd homes.  Ineligible properties include but are not limited to investment property (defined as non – owner occupied property), a co-op mobile home, or manufactured housing.  Property must be located in OH, or PA.  Rate and terms are subject to change and credit approval.  Home equity lines of credit are available in the first or second lien positions.  Property insurance required.  Flood insurance may be required.  Annual fee of $50.  Additional rates and terms are available.  

Home Equity Lines Of Credit
A home equity line of credit can provide a great way to turn the home equity that you have earned into a source of immediate cash for unexpected medical bills, car repairs or credit card debt. Our line of credit offers checks and online banking options. To find out whether you're in a good borrowing position, and the maximum amount you should be able to borrow, take our One-Minute Home Equity Loan Test. You might also want to consider ordering yourCredit Report to assess your own credit standing. Or just call us or contact us through the website. We'll be pleased to help answer your questions
• Borrow up to 80% loan to value
• Variable rate of interest tied to the Wall Street Journal Prime Rate
• Interest payments may be tax deductible (consult your tax advisor)
Home Equity Line of Credit Loans are a variable interest rate product offering. CURRENT PRIME RATE IS 3.250% AS OF JUNE 8, 2021 DEPENDING ON CUSTOMER'S QUALIFICATIONS, VARIABLE APRS RANGE FOR LINE AMOUNTS AS STATED ABOVE. CUSTOMER'S SPECIFIC RATE IS SUBJECT TO APPLICATION, APPROVAL AND ACCEPTABLE PROPERTY APPRAISAL AND TITLE SEARCH; LOAN-TO-VALUE(LTV) RATIO; CREDIT HISTORY; LINE AMOUNT; LIEN POSITION; OPTIONAL AUTOMATIC PAYMENT DEBIT FROM A CONNEAUT SAVINGS BANK CHECKING ACCOUNT; WHETHER OR NOT PROPERTY IS OWNER-OCCUPIED; RATE GENERALLY BASED ON MEETING CERTAIN UNDERWRITING CRITERIA. THE APR IS VARIABLE AND CAN CHANGE EACH MONTH, BUT WILL NEVER BE HIGHER THAN 18.00%. LOWEST RATES IN EACH TIER REFLECT A 0.25% DISCOUNT FOR OPTIONAL AUTOMATIC PAYMENT FROM A CONNEAUT SAVINGS BANK CHECKING ACCOUNT. LOWEST RATE AVAILABLE IS FOR WELL QUALIFIED BORROWERS WHO ARE APPROVED FOR A NEW LINE A LOAN-TO-VALUE RATIO OF 80%; 0.25% DISCOUNT FOR AUTOMATIC PAYMENT; ASSUMES PROPERTY IS OWNER-OCCUPIED; FIRST LIEN POSITION; A CREDIT SCORE OF 740 OR HIGHER. BORROWER-PAID TITLE INSURANCE IS REQUIRED ON LINE AMOUNTS GREATER THAN $200,000. OFFER SUBJECT TO CHANGE WITHOUT NOTICE. THE HOME EQUITY CREDIT LINE HAS A $50 ANNUAL FEE. THE INITIAL FEE WILL BE CHARGED ON YOUR FIRST BILLING STATEMENT AND THEN ANNUALLY, THEREAFTER. THE APR IS BASED ON PRIME PLUS OR MINUS A MARGIN. THE MARGIN IS BASED ON YOUR HOME'S LOAN-TO-VALUE RATIO, LIEN POSITION, OWNER OCCUPANCY STATUS, APPLICANT'S CREDIT HISTORY, AND THE AMOUNT OF THE CREDIT LINE. "PRIME" MEANS BANK PRIME LOAN RATE PUBLISHED BY THE BOARD OF GOVERNORS OF THE FEDERAL RESERVE SYSTEM IN ITS STATISTICAL RELEASE H.15 (519) ENTITLED "SELECTED INTEREST RATES." USE OF THE WORD "PRIME" DOES NOT MEAN THAT THE RATE IS THE BEST OR LOWEST RATE OFFERED BY ANY LENDER. INSURANCE MUST BE CARRIED ON THE REAL PROPERTY SECURING THE ACCOUNT, AND FLOOD INSURANCE IS REQUIRED ON BUILDINGS LOCATED IN A SPECIAL FLOOD HAZARD AREA. MINIMUM PAYMENT REQUIREMENT IS INTEREST ONLY FOR THE FIRST 5 YEARS, FOLLOWED BY A 10-YEAR PAYMENT PERIOD. MAKING ONLY THE MINIMUM PAYMENT DURING THE FIRST 5 YEARS WILL NOT REDUCE THE PRINCIPAL BALANCE ON THE ACCOUNT. INSURANCE MUST BE CARRIED ON THE REAL PROPERTY. ADVERTISED RATES ARE SUBJECT TO CHANGE AT ANY TIME AND DOES NOT APPLY TO REFINANCING OF EXISTING CONNEAUT SAVINGS BANK ACCOUNTS. CREDIT SUBJECT TO APPLICATION, CREDIT APPROVAL, ACCEPTABLE APPRAISAL AND TITLE SEARCH. CONSULT YOUR TAX ADVISOR REGARDING THE DEDUCTIBLE INTEREST. 1 THERE IS A DRAW PERIOD FOR 5 YEARS AFTER THE ACCOUNT IS OPENED DURING WHICH ADVANCES AND PURCHASES MAY BE MADE, AND DURING WHICH REDUCTIONS TO PRINCIPAL ARE NOT REQUIRED ( UNLESS CREDIT LIMIT HAS BEEN EXCEEDED), FOLLOWED BY A 10-YEAR REPAYMENT PERIOD DURING WHICH THE MINIMUM MONTHLY PAYMENTS AMORTIZE THE OUTSTANDING BALANCE ON THE LINE AT THE END OF THE DRAW PERIOD.  ALL LENDING PRODUCTS ARE SUBJECT TO APPLICATION AND CREDIT APPROVAL.  HOME EQUITY LOANS AND LINES ALSO SUBJECT TO ACCEPTABLE APPRAISAL AND TITLE SEARCH.