Switch Banks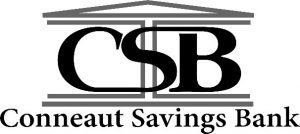 Come grow with us!
Switch banks, it's easier than you think.
It can seem daunting to close a bank account. But if you follow a few easy steps, switching banks can be simple and straightforward. Get started on a great new relationship with Conneaut Savings Bank (CSB) by following the four easy steps listed below.
Step 1: Open your new checking account
Before you close your current bank account, you should first open a new one. If you're planning to come grow with CSB, we have trained staff to help you chose the right checking account product for you so this step can be accomplished quickly. Not sure what checking account you want? Compare checking accounts.
Step 2: Transfer your deposits and payments
Automated finance options, like direct deposit and recurring bill pay, are helpful and convenient. Before closing your old bank account, you'll want to make sure there won't be anything going into or coming out of it – you don't want to miss a bill or a paycheck. First, take the time to set up direct deposit to your new checking account, you can do this by filling out our switch kit. Then, update any automatic bill payments with your new account information or debit card number. You don't want to be left behind after you close your old account. Now's a good time to start setting up other important features, like Online Banking, automatic transfers to a savings account, and to download the Conneaut Savings Bank Mobile app. You should also make sure to apply for a debit card and order checks for your checking account.
Step 3: Wait a month before closing your old account
You can move most of your funds over to your new account, either by electronic transfer, certified check, or cash. But make sure to leave some funds in your old account for about a month. This way, in case you forgot any automatic payments when you were switching bank accounts, you won't miss paying a bill.
Step 4: Close your bank account
Once you feel confident that all necessary updates have been made and you're all set up with your new account, it's time to close your old bank account. Most banks require you to come into a branch to close your account, and you'll need to withdraw any remaining funds while you're there. Speak to a banker at the branch and they'll let you know about any remaining conditions of closing your account, and answer any last questions you might have. The Consumer Finance Protection Bureau also recommends that you get a written confirmation that your bank account has been closed. Congratulations, you've successfully switched banks! Make sure you're familiar with any terms and conditions of your new account, which can help you avoid monthly maintenance fees.
Still Have Questions?
If you can't find what you're looking for, let us know. We're ready to help in person or on the phone.